Leonora Quarterman (1911-1979)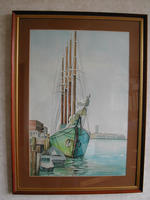 Leonora Quarterman was born in 22 October 1911 in Savannah, daughter of Luther Henry Quarterman and Mary Elizabeth Walker. She died in Savannah 22 June 1979 and was buried 23 June 1979 in Forest Lawn Memory Gardens.

Apparently she was one of the illustrators of Sojourn in Savannah, a guidebook.

She did the artwork for the edition of Rev. James Stacy's History and Records of Midway Church that her parents published. She wrote some addenda for that edition.

She was a genealogist, who did copious research and also drew this family tree. Her branch is right in the middle, below the man on horseback, who is her father, Luther Henry Quarterman, who was a wealthy businessman of Savannah and a member of the Independent Presbyterian Church. As you can see by the tree, her mother, Mary Elizabeth Walker, was also a Quarterman descendant.
Her parents published a duplex book,
Reminiscences of a Country Boy and The Home at the Bluff,
by Luther H. Quarterman and Elizabeth Walker Quarterman,
Drawings by Leonora Second Printing, 1965, 88 pages + 80 pages.
Leonora is occasionally mentioned in the text, in addition to having drawn the illustrations.

Her niece and grand-niece still lived in Savannah in 1994. Sources: Mrs. Jane Sinclair Quarterman Comer, niece Mimi, obituary Savannah Morning News 23 June 1979, and social security death records.

Georgia Historical Society in Savannah has a folder of clippings on her, including a picture of her. Next time someone is by there, if they could photograph or photocopy those, that would be most interesting.
---
Last changed: $Date: 2006/12/24 17:26:52 $