From: "John S. Quarterman" <jsq@quarterman.org>
Date: Sat, 14 Sep 2002 13:22:43 -0500
1785: Rev. Abiel Holmes ordained, ``Mr. Holmes having signified his acceptance of the call, in August following (1784) commenced preaching among them, and being only a licentiate, in the following year, September 15, 1785, was, upon the request of the church, ordained in the chapel at Yale College, Rev. Levi Hart preaching the ordination sermon, from Galatians I:10, Rev. Dr. Ezra Stiles offering the ordaining prayer, Rev. Dr. Williams giving the charge, and Rev. Warham Williams the right hand of fellowship.'' -- Stacy in his History. Source: Stacy-H
Rev. Holmes was ordained at Yale because he was a Yale graduate. He was pastor of Midway Congregational Church from 1785 to 1791. Afterwards he was pastor of Congregational Church, Cambridge, Mass., for 40 years.
Oliver Wendell Holmes, Sr., the physican and writer, (Old Ironsides; The Chambered Nautilus) was his son.
Oliver Wendell Holmes, Jr., the Supreme Court Justice, was his grandson.
Abiel's brother, Liberty Holmes, married Susannah Quarterman, sister of Rev. Robert Quarterman, pastor at Midway a generation after Abiel Holmes left Midway, and while he was still at Cambridge. Liberty was born in 1776, which may explain his name.
Abiel's brother Lathrop died 13 April 1801 on the schooner Sally, which was in transit from Newport, Georgia, to New York City. See the book, Quarterman Family of Liberty County, Georgia, and Relatives.
And it seems Abiel himself was a writer, of The History of Cambridge, finished in 1800, published in 1801. It includes biographical sketches of the previous pastors at Cambridge, including Thomas Shepard. This book would certainly have been known in Midway.
It contains a chapter about the years of Thomas Shepard.
Rev. Holmes mentions a sizeable exodus in 1836 of Newtown (it was renamed Cambridge in 1638 in honor of Harvard becoming a college after John Harvard's bequest) people to Hartford, Conn. 1836 is the same year as many Dorchester people moved to Windsor, Conn. What convinced both those groups to move in that year?
Rev. Holmes makes it clear that Shepard was one of the principal opponents of Anne Hutchinson. He gives the impression that it was Shepard's arrival from England to New England that turned the tide which otherwise would have caried Ms. Hutchinson's views in the colony.
In case you, like I, had to look up what they were arguing about, here's a summary. She stood for Antinomianism, which meant that Christians were not subject to moral law, i.e., they could perform evil acts with no ill effects. He was a Legalist, who held that Christians were subject to doctrine. This is essentially a Protestant dispute, so here I'll reference a Catholic description of it that includes Luther's invention of the term Antinomianism and cites predecessors back to Marcion:
http://www.newadvent.org/cathen/01564b.htm
Here is Abiel Holmes' description of the meeting held at Newtown to deal with the controversy:
``Such was the warmth of the controversy, that it was judged advisable to call a Synod to give their opinion on the controverted points. A Synod was accordingly holden at Newtown on the 30th of August, 1637, at which "all the teaching elders through the country," and messengers of the several churches, were present. The magistrates, too, attended as hearers, and spake occasionally, as they saw fit. Of this Synod Mr. Shepard, who opened it with prayer, "was no small part." (29) After a session of three weeks, the Synod condemned eighty-two erroneous opinions, which had become disseminated in New England. The proceedings of this Synod appear to have been conducted with fairness and ability. "Liberty was given to any man to dispute pro or con, and none to be charged to be of that opinion he disputed for, unless he should declare himselfe so to be. The clearing of the true sense and meaning of any place of scripture, it was done by scripture."''
http://www.harvardsquarelibrary.org/chistory/section3.htm
What does all this have to do with Midway? Well, we know that the Holmes family was intermarried with and admired at Midway, and we have some reason to believe that Thomas Shepard was, as well. If so, what they thought in Cambridge may give us some ideas about what people may have thought in Midway.
John S. Quarterman <jsq@quarterman.org>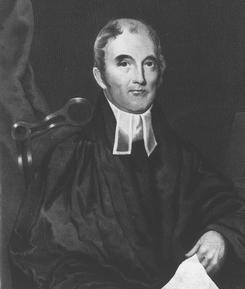 Re: Abiel Holmes
From: "W. Hugh Tucker" <htucker@stny.rr.com>
Date: Sat, 14 Sep 2002 16:09:57 -0400

My wife's ancestor, Joseph Easton, was one of the Hooker group that settled Hartford. The Easton family history states: "On May 31, 1636 the colonists, after due consideration, started on their exodus to Connecticut, where the previous year a delegation had gone to procure a location and purchase land from the Indians. Our ancestor, as one of the original proprietors, owned shares in what we would call today a syndicate."

Hooker's group was quite affluent for the day and moved a considerable amount of livestock across the hundred miles of wilderness between Boston and Hartford. They moved 160 head of cattle plus swine and sheep.