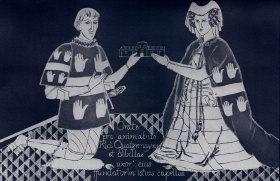 From: Connie Sadler <csadler72@computermail.net>
Date: Wed, 11 Dec 2002 14:25:31 -0800 (PST)

Hello all,

For those of you who have a photo manipulation program, here's something intriguing you can try. Go to

http://www.thamehistory.net/people/RichardQuartermain.htm

There you will find an image of Richard and Sybil Quatremaine in what used to be a window at Rycote Chapel. Now convert the image to a negative. Eerie, huh?