James Screven was a general who was killed during the Revolutionary War. Genealogically he is only indirectly connected to the Quarterman family, but he was a significant figure in the Midway community. There is a tall monument to him in the middle of Midway Cemetery.

According to Midway Museum,
``Toward the end of 1778, the theatre of war was transferred to the Southern Provinces, and the British planned an invasion of Georgia from East Florida. General Augustine Prevost sent one force, commanded by Lieutenant Colonel L. V. Fuser, by sea directly to Sunbury, near Midway, and another, under Lieutenant Colonel Mark Prevost, by land to rendezvous with Fuser at Sunbury. Colonel Prevost's force set out in November, 1778, toward Sunbury, destroying and plundering the plantations in its path.

``Colonel John White posted about one hundred continentals with two pieces of light artillery at the Midway Church and constructed a breastwork just south of it, hoping to hold off Prevost until help arrived from Savannah. When General James Screven arrived with some twenty militiamen, the Americans moved their position 1 1/2 miles south of the Church. During the skirmish which followed, General Screven was wounded and captured; he died while in the hands of the enemy. Outnumbered, White retreated to Midway Church. He succeeded in slowing the British advance by a clever deception. He arranged for a fictitious letter ordering the retreat as a trap to fall into their hands.''
Col. White doesn't appear to have been a Midway person.

According to Stacy's Records, on 22 November 1778,
``Sabbath morning, 22nd. Our Party retreated yesterday to the Meeting House, where a recruit of some hundreds joined them with some Artillery, and some of our Party crossed the Swamp, and coming near a thicket where they expected an Ambuscade might probably be, Col. James Screven and one more, went forward to examine, the Colonel, and one Continental officer, and Mr. Judah Lewis, were shot down. The Colonel had three wounds; the other two killed. A flag was sent and brought off the Colonel.''
This is the General Screven of the monument in Midway Cemetery. Apparently he must have been posthumously promoted to General, since the contemporary records say he was a Colonel in this skirmish, in which he received the wound from which he died.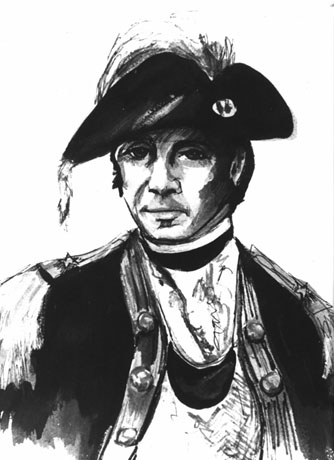 James Screven
Photograph by Carol Van Cleef
of sketch in Midway Museum

Stacy remarks in his History, page 118:
``He [James Screven] fell mortally wounded in a skirmish with the British under Col. Provost, on Spencer Hill, one and a half mile south of Midway church, November 22, 1778. From the Midway Records and other sources we gather the following facts: That Col. White had himself gathered an army to meet Col. Provost approaching from the South; that after and unsuccessful attempt at resistance at Newport Bridge on Saturday morning, they fell back to Midway church. On the next morning, Sunday, Gen. Screven and some of his party crossed the swamp to reconnoitre, but falling into an ambuscade he fell mortally wounded, receiving three wounds, one of which was inflicted after he had fallen. He was sent by flag of truce that evening by Captain Mittus and eight men, placed in the Vestry House, treated by Dr. Dunwoody, removed afterwards to the house of John Elliott, Senior, where he breathed his last Tuesday, Nov. 24, 1778. Captain Strother and Mr. Judah Lewis were killed in the same skirmish in which the general fell.''
Captain Strother was apparently the "one Continental officer" referred to in the Records. He and Mr. Judah Lewis and Col Screven all died.
As near as I can tell, Mr. Judah Lewis and Captain Strother were not related to the Midway group. Col. Screven was related, as discussed previously in this list.
Of the other people mentioned, I would guess Dr. Dunwoody was James Dunwody (1751-1809), son of John Dunwody of Londonderry, Ireland and Susanna Creswell, married Esther Dean, had three children. Hm, I didn't know there were any Irish in Midway. They also came to Midway by way of Pennsylvania, which I didn't know had ever happened. The immigrant John Donwody died in 1776, so the Dunwoody mentioned for 1778 couldn't have been him. His son (1751-1809) is recorded in several sources, including his epitaph in Midway Cemetery, as being a doctor.
I don't know who Captain Mittus was.
For John Elliott, Senior, see his page.